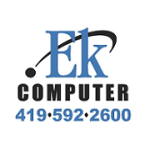 We Handle IT!
EK Computer is a comprehensive managed IT Services firm offering end-to-end IT solutions. We want to be your IT department and trusted solutions partner. It is important to partner with an elite Managed IT Services firm to customize your workflow and provide you with your ordeal working environment.
We are your IT Department
We love technology and providing high quality IT services is our passion. We live this passion by building customized technology solutions that help your business succeed. We learn who you are as a business and what your goals are, and create comprehensive, personalized IT solutions built exclusively for you. Our managed IT Services are all-inclusive. We provide our clients with a customized IT portfolio that is configured and managed to support their internal processes.
How IT all began
In 1998, EK Computer, Inc. was founded with the ideals of providing knowledgeable, reliable and responsive information technology service to customers. Since then, EK Computer has grown to include three locations in Northwest Ohio with more than 20 highly skilled technicians with over 280 contractual clients.
EK Computer has the knowledge, experience, and tools to provide IT infrastructure tailored to your needs. No matter what industry you work in, we will work with you to design a process that best serves you and your team.
Financial and Banking
We partner closely with CPA firms and banking institutions by managing their core business systems. Data Security is our specialty, this includes working with their compliance and risk officers to align their IT to mitigate information security vulnerabilities. We have built relationships with keys vendors such as FiServ, CSI, Thomson Reuters, Intuit, Sage, Wolters Kluwer, and more.
Manufacturing
We work with some of the largest manufacturers in the area, ensuring their environment is aligned to the highest standards and uptime is at its maximum. We have decades of experience with many of their partners including JobBOSS, AutoCAD, LUXRIOT, Bystronic, Dassault Systemes, and more.
Agriculture
The peak seasons are important for productivity and growth. We work endlessly to align their IT so they can make the most out of every season. Our mission is to move them forward and not let their IT hold them back. The essential data collected drives us to partner with their vendors including CDK Global, CNH,Farm Works/Trimble, Acumatica, and more to not let their IT hinder their progress.
Government
Our government partners require 100% uptime to ensure they can effectively perform their public duties. We align with their goal by positioning their IT to the highest standards and placing security at the forefront. We have extensive experience working with their many software partners including Henschen & Associates, The Baldwin Group/HDIS, Primary Solutions/Infal, Equivant, HealthSpace, and more.
Healthcare
At EK, we understand the importance of IT for all our Healthcare partners. An offline computer or server can make all the difference in providing the best service to their patients and staff. All our staff are HIPAA trained and certified annually. We work with the following software partners to better service their systems: eClinicalWorks, Abila MIP, Cerner, Netsmart, and more.
Our commitment is to take the worry out of IT so our clients can focus on growing their businesses. We offer a Full Managed Services platform catered to your environment.
Let us handle the full aspect of your IT needs with a personal touch.
We cover everything from projects to day-to-day operations along with strategic planning and life cycle management.
Feature rich packages totaling less than a single full time IT position for most clients.
Features:
Network / Systems / Server Management
Centralized Services (Antivirus / Backups / Office 365 / SSL / Domains)
Technology Alignment
Life cycle Management
Projects (Network, Server, Systems)
For more information on how EK Computer can help your tech needs –
Phone: (419) 592-2600
Email: info@ekcomp.com